My dear friends,
It is so good to be writing to you again; it's been a long, dry spell and I have so much to tell.
I will be on the road this summer touring with my long time collaborator, world class guitarist and musical innovator. 
Pete Anderson
 produced two of the three albums of my Mercury Trilogy and it is a long standing dream come true to be reunited in this performance project with him. We are playing a summer residency tour at 
City Winery
(Chicago, New York, Atlanta, Nashville – and soon, Boston) and we will perform each album from the Trilogy – 
Short Sharp Shocked
, 
Captain Swing
 and 
Arkansas Traveler
 – consecutively in the months of June, July and August. Pete's rhythm section will join us for parts of the show and will also feature Pete's own original compositions.
I've been at Red Wally Studios in Beacon, NY laying vocal tracks for my friend 
Ron English's
 opus, Delusionville with the brilliant lads from upstate NY's The Package. Delusionville is a character-based musical featuring Ronnnie and Bunnny Rabbbit with a cavalcade of turtles, buzzards, sheep, ducks, wolves and even one orange elephant named Trunk. Delusionville is a place where, after falling down a rabbit hole, they all live in another dimension where even the best intentions always dissipate into apathy. Ron and I go in the wayback machine to college days in Austin. Here's a snap from my debut as Bunnny, "the star of the show," alongside drummer Lee Falco.
A few weeks ago I listened to a table read for Kind Hearted Woman, a new script by serious-heavy musical theater playwright Todd Almond. Todd aced it. Last year, I saw Courtney Love strut her stuff in a stunning two-hander by Todd called "
Kansas City Choir Boy.
" I was first introduced to him by my friend, the great guitarist 
Janet Robin
, at a Center Theater Group production of Todd's two-hander written for Matthew Sweet's "
Girlfriend
." We're doing a show together at 54 Below in the fall, so I'll send you more details about that next time.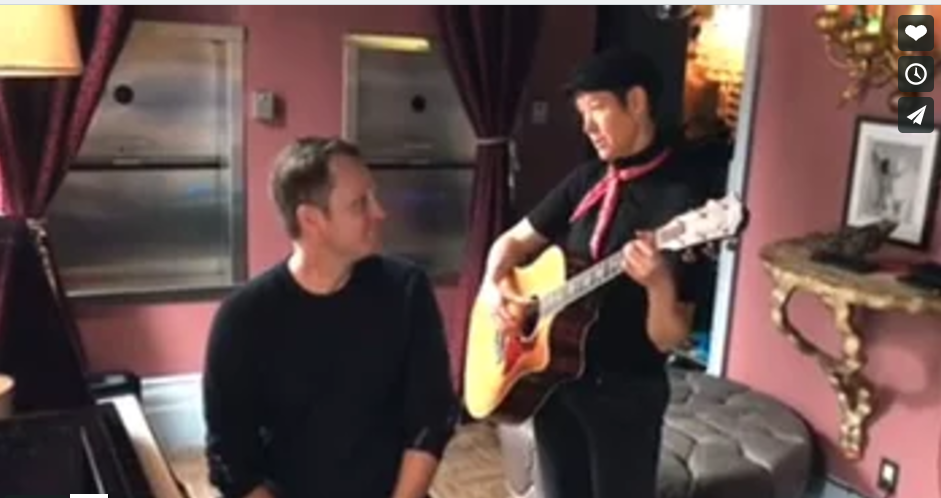 I'm returning again this August to the Edinburgh Fringe Festival in a show called Truth Vs Reality, produced by the bon vivant Church-Woods lads, Barry & Joe. I'm delighted to be a part of 
Civil Disobedience's
 #AllianceOfDefiance with pals Christian Kelty's 
Joe's NYC Bar
, Peter Michael Marino's 
Show Up
 and Romy Nordlinger's Alla Nazimova biography, 
PLACES
.
It was ten days of sun and fun at the 
Orlando Fringe Festival
  as the house band for Joe's NYC Bar.
Saturday, June 17, I'll be on Governor's Island at 
Porch Stomp 
with "Leaky Lou & the Whistleblowers," supporting my friend, the brilliant investigative journalist 
Timothy Shorrock
.
I'll be in Dallas at the 
Kessler Theater
 on July 2nd with Pete and the boys.
I've been invited to stop and pay a visit to 
Victor Wooten's JAM camp
 later this summer.But most of all, what I want you to know is that God is good. I feel very blessed to have such devoted, faithful, loyal and trusting audiences. I know the road has been rough and the journey long, with haters playing hardball. But that is what makes it all so very interesting, don't you think? I've never stopped making trouble, I just went underground for a chance to catch my breath and come up for air with a little reinvention. The creeping fascism of the last 10 years – Wall Street fraud, government corruption, media manipulation and rampant copyright theft – has wreaked havoc on creators and concerned citizens alike. It just means, "the times they are a'changing and you gotta change with the times."
That's enough for now. I promise next time I'll have more news about my new studio recording adventure, the Cuban-inspired copyright education project Musical Chair, (going for the third time October 5-9, join us!) Plus goss about exciting new partnerships and promising developments about my long-awaited opus, Indelible Women.
Until then, keep the faith and keep on rocking. I promise I will if you will.
xo
Chelle
p.s. Here's a list of my current favorite blogsites and reliable information sources
This email was sent to {EMAIL}
You received this email because you are registered with Strawberry Jam Tours
© 2017 Strawberry Jam Tours